We're excited to announce the release of update 1.2.4! This is a small update, but it contains a list of stability and performance improvements and two important changes!
First, we've improved the way vehicles are maneuvered. You should now feel more comfortable keeping vehicles on the road. We've heard your complains and like to know your opinion on this improvement!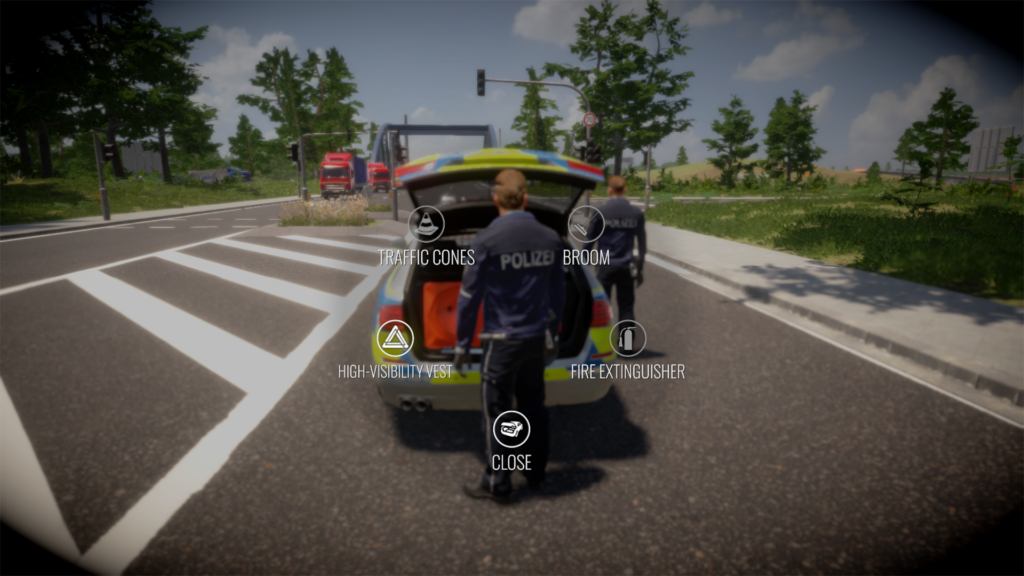 The second large change is that we changed the way you interact with objects in your vehicles trunk. From now on, you no longer have to pick the objects directly from the trunk – which could be a bit cumbersome – but instead we've replaced the whole interaction with a radial menu, where you can easily choose what you need.
That's all for today, we appreciate your support and keep having fun on the Autobahn!
Here is the complete list of changes for this update:
Gameplay
Added an additional dialogue to mission "Danger of Explosions" which warns you if you try to put the fire extinguisher too close to the fire.
We improved the shooting AI to be more performant and updated the general behavior to respond to some additional events during shooting.
We added a new selection menu for the vehicle trunk. You can now quickly select any item from an easily accessible radial menu. The menu opens when you interact with the trunk door of your vehicle.
The player can now walk faster while carrying items in Street Cleanup missions.
We updated the used items in Street Cleanup missions. From now on it is guaranteed that at least one large item is spawned. This is to make it more obvious as of why it is important to keep the streets clean.
Improved the flow of accident cases where a check like resting times is needed to get a confession. From now on it doesn't matter anymore in which order you conduct tests and checks, and you will never "loose" the potential to get the correct confession if the driver wants to give one.
The vehicle controls got a further upgrade to improve the handling of all vehicles.
The vehicle selection in the garage is now disabled when the player is not allowed to switch or enter a vehicle.
Bugfixes
Fixed an issue with the "Snared" achievement not correctly triggering if you had already more than 10 done car chases.
Fixed emergency signals and WeNiPol matrix not working properly on the Police Van.
Fixed a Softlock in Shooting Range where it could happen that the character controls are locked after canceling the mission.
Fixed a rarely occurring application freeze if you try to use the Action Menu on an Autobahn interchange to stop a car or measure speed if no vehicle is near you.
Fixed a potential Softlock if you try to use the accident evidence camera during a dialogue.
Fixed an issue with the paramedics in "Broken Down Car" missions which caused the RTW to sometimes move around weirdly.
Fixed an issue in mission "The Last Race" where it could happen that Heiko drove out of the world.
Fixed vehicle outlines having wrong colors in Car Chases, Traffic Controls and Observation missions.
Fixed an issue with applying vehicle performance upgrades after loading a game which could cause the vehicle to not use the proper upgraded values until you switched to another vehicle and back again.
Fixed an issue with missing vehicle and companion when continuing a game save.
Fixed an issue with the ghost traffic cone being displayed in accidents if you enter the zone for placing traffic cones without any traffic cones in hand.
Fixed usage of wrong icons in debriefings for some missions. Successful bonus tasks will be displayed with a checkmark from now on.
Fixed a rare situation when player may get stuck in chairs in missions of type Hold-Ups.
Fixed hand position on steering wheel for female characters.
Fixed player marker doesn't disappear after player reaches it.
Fixed an issue with NPCs sometimes spawning inside of guiderails in Procedural Accidents.
Improvements
Optimized memory usage in various systems to free up some memory. This will increase stability especially on weaker hardware.
General performance improvements in various missions.
Improved various animations in the game.
Improved interior model of the police van.
Consoles
[PS4] various texture improvements.
[PS5] fixed an issue with controls in photo mode not working properly.