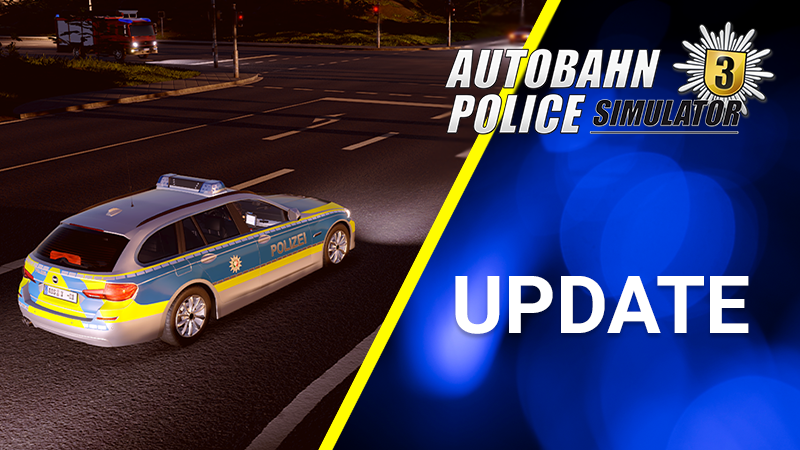 The next update is ready for you. We fixed some bugs for the mission "The Last Race". Here are the changes 📑:
Gameplay:
Updated the end of the mission "The Last Race" to prevent the car of Heiko to disappear.
Updated handling of being spotted in the mission "The Last Race" to prevent the player from getting locked.
Tweaked handling of special car.
Updated scaling routine for accident sketches to better fit the processed accident.
Vehicle reset was changed to reset the vehicle to the last known ground position instead of the nearest position.
Tweaked timings for "Road Blockade" missions.
Bugfixes:
Fixed mission point activation update which sometimes could lead to mission points being activated or deactivated at the wrong time.
Fixed a Typo in the German translation for mission "Under Surveillance"
Fixed a bug preventing previously cleared rank missions from being detected as cleared. This fix addresses older saves which got stuck because the rank task did not already detect the completion criteria and the criteria is not fulfillable anymore. For example, on Rank 18 the task to unlock an item from the tech tree.
Fixed an issue in the accident sketch UI which could lead to a wrong number of items being displayed.
Fixed some statistics counters in the statistics menu which got not updated correctly.
Fixed some issues with jittering wheels in "Road Blockade" missions.
Improvements:
Updated collision layers of some gameplay relevant triggers to reduce the number of processed collisions.
Improved audio for intro cutscene in mission "Danger Of Explosion"
Reworked message handling in the shooting UI to reduce the number of processed messages.
Console:
PS4: Fixed an issue in Mission "The Last Race" which caused the tasks to disappear if you retry the mission.
PS4: Updated LOD settings for the kitchen in the police department
Additionally here is a little preview for the next update:
Camera Improvements while driving
Gameplay/Fixes for Unique Missions
Texture improvements PS4
Tweaks for procedural content spawn (increased spawn rates if it is a mission needed for a current rank tasks)
Tweaks to the vehicle breaks.
TimeOfDay vehicle light issues.