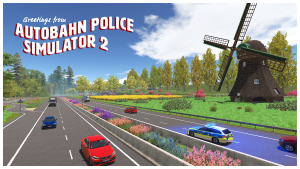 Last week we reached 700 Facebook fans! We are very happy about this growing community and the interest about the upcoming Autobahn Police Simulator 2. We get really nice feedback on a regular base and we really like communicating with you! Thank you in behalf of the whole team for giving us such great feedback and motivating us even more to work hard on our game!
Speaking of the game: the development process moves on steadily. One important milestone we reached is that we completed the whole world in which the player will be able to drive around and work as a policeman. This means that we hand placed buildings, trees, rocks, objects and drew a lot of Autobahn, exits, motorway junctions, etc. This was a mammoth task and a lot of work but we are really happy with the result because the world looks vivid and beautiful.
You can see the progress we make on our Facebook page where we post new screenshots and updates. So, if you aren't already a fan yourself, please like us on Facebook and join the club.